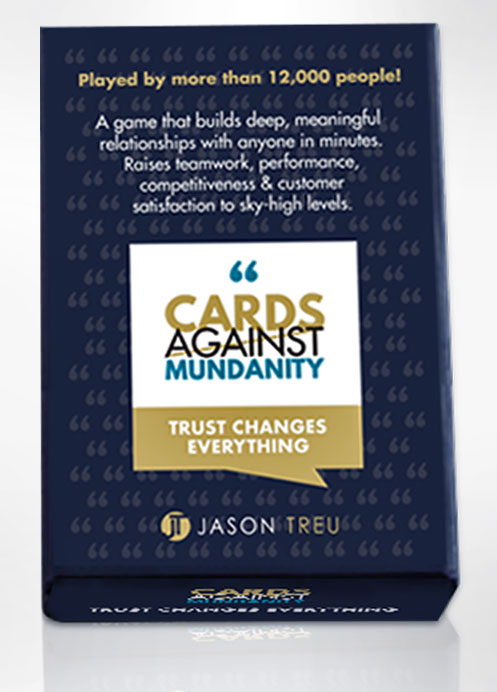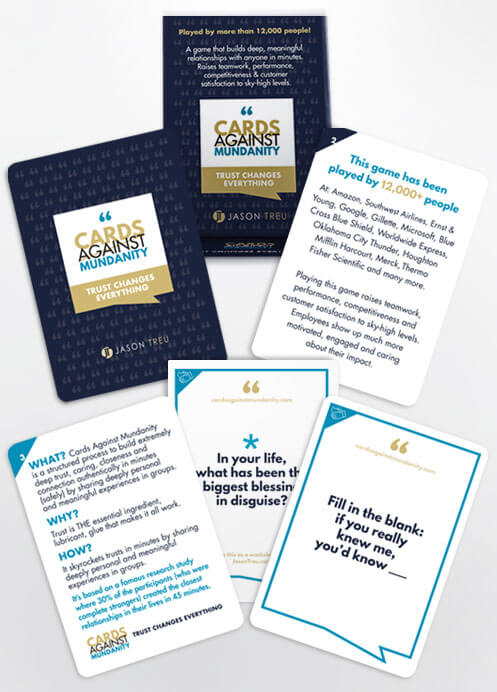 Do you want to get every individual & team in your organization to be fully energized and performing at their highest level?
Do you want to maximize employee engagement, reduce turnover, and decrease team conflicts and issues? 
Do you want to increase sales, customer satisfaction and business development efforts?
If answered yes, then read on. I'm going to give you a free game, Cards Against Mundanity (small group question-and-answer game that sky rockets trust in 45 minutes or less) that builds THE FOUNDATION for your people strategy (in any size organization and any industry). It gets people to learn and understand each other in a deep, and meaningful way (and you can read about the experiences of people who played it here).
Teams, individuals and entire organization can use it both internally and externally with clients, prospects, partners and key third parties.
It's based on a famous research study where complete strangers built THE closest relationship in their lives in 45 minutes.
On average teams are increasing trust, engagement, and team closeness by more than 20%+. That translates into double-digit increases in performance and key metrics. Typically, that same increase would take five-plus years and 6/7/8-figure spend.
More than 12,000+ people have played Cards Against Mundanity including organizations such as Amazon, Google, Microsoft, Ernst & Young, Oklahoma City Thunder (NBA Team), Merck, Novartis, Intel, Houghton Mifflin Harcourt, Southwest Airlines, PRSA, Blue Cross Blue Shield, Thermo Fisher Scientific, Worldwide Express, Phillips May, Houston-Galveston Area Council, and many others. Several schools have used it, sports teams, charity organizations, government organizations, private equity firms, venture capitalists and others. Any organization will benefit from playing it.
I've got a question for you…
Think about the best team you've ever been on. The team that was the most cohesive, cooperative, deeply connected, and productive. Maybe it was a job, a sports team, club, startup, an event you were apart of, etc.
Which one was it? What did you accomplish together? How did it feel to be connected to something bigger, to sort of lose yourself in that moment?
That feeling you just thought of is…THE…most…powerful…business…asset…on…earth. It's what separates the top 1% from all the rest.
Leaders struggle and stay awake at night trying to figure out how to create that feeling and conditions for others to thrive.
Unfortunately, many leaders believe that building high performing and innovative teams are like your DNA – you either have it or not. THAT'S NOT TRUE AT ALL. It's not luck or an accident.
It's learned behaviors backed by science and intentionally developed and prioritized by leaders. Business leaders and managers can learn how to "dial in" to the right behaviors and environment to put every person in a peak state of performance and innovation.
Why does this ultimately matter? Collaboration is taking over the workplace. With employees spending more than 75% of their time working together, teamwork is critical to organizational success and market leadership. However, according to Gallup, almost 70% of employees are disengaged and it's costing U.S. businesses $550 billion every year.
The secret to building the highest performing and most innovative teams is prioritizing and building a team and organizational foundation based on psychological safety, vulnerability, truth-telling and operationalized values.
Research overwhelming supports this premise:
Harvard found over a 11-year study of 200 organizations that ones with a strong culture increased net income by 756% versus ones without it only increased by 1%.
Employee retention rates went up 200% when companies spent one hour during the on-boarding process having new employees get to know one another.
Companies with highly engaged workforces outperform their peers by 147% in earnings per share
WHO IS THIS FOR?
Are you an Executive, HR, Sales or any manager looking for a way to significantly improve performance, teamwork, problem-solving, and engagement?
Are you planning a corporate retreat, meeting or team offsite and need a way to bring your team closer together than ever before?
Are you an individual contributor looking to rocket your career trajectory upwards?
Are you trying to close prospects and sell more to existing prospects?
Are you part of a merger or acquisition? 
Are you a private equity or VC trying to maximize performance in your portfolio of companies?
Are you a non-profit trying to increase contributions and get more volunteer support?
Are you a coach of a sports team trying to maximize performance and teamwork?
If you answered yes to any of the above, Cards Against Mundanity will work for you.
Chances are you have tried team building exercises, workshops, leadership/management training and activities that either didn't work well or that employees didn't enjoy. Or perhaps you are looking for something engaging, new and fun that actually works! You'll see results in minutes when you play it.
Cards Against Mundanity is the solution for you (and it's FREE with instructions and FAQ!). 
It's a question-and-answer game played in a group, like Cards Against Humanity, that works for any size organization and/or team. You can also play it across multiple teams in the same organization and get the same benefits. You can also use it with any external audiences: prospects, clients, partners, media, analysts, etc.
There is an FAQ below that will answer most of your questions, as well as a button to download the game [it's free].
Here a few of benefits you'll get from playing The Cards Against Mundanity:
Foster closeness and break down emotional and social barriers in less than one hour that improves team performance, communication, collaboration, and retention. For 99% of teams, this would take years or decades, if ever.
Create "psychological safety," which is the #1 factor in building the highest performing teams. For example at Google, among sales teams, those with high psychological safety exceeded their targets by, on average, 17%. In contrast, those with low psychological safety missed their targets by, on average, 19%.
Build trust, respect and where people are comfortable being themselves, which significantly improves problem-solving, innovation and creativity.
Build high levels of trust and rapport with key third-parties such as clients, prospects, partners, etc.
Here's the Immediate Bottom-Line Impact Cards Against Mundanity Provides Organizations
Google Senior Leader, Alberto Grazi (Head of the Video Solutions Group): "The workshop and game were excellent: the team was very appreciative of the event, and it kept coming up as one of the best experiences they've ever had. As a manager, that was great to hear. Throughout the following two days, we hosted some guests from other groups, and we asked them to answer random cards in front of the audience: some of their answers were surprisingly deep and instantly helped to establish trust between them and our teams." 

"Jason's presentation and Cards Against Mundanity game instantly resonated with our group and was the start of new connections across our organization.  In my experience as a sales leader, I know that candid, vulnerable conversations lead to building a foundation of trust within a team.  When strong relationships are fostered, my salespeople reach a higher level of engagement, and higher performance levels are the result.  Jason's method ensures a quick path to honest dialogue in a really fun, unique way!"
Matthew Smith, Senior Director, Head of Corporate Sales at Southwest Airlines and President of AA-ISP (American Association of Inside Sales Professionals.)
"Jason spoke at the AA-ISP (Global Inside Sales Association) for our Spring Leadership Retreat with 50+ Sales Leaders from companies of all sizes (Merck, Intel, Microsoft, Thermo Fisher Scientific, Houghton Mifflin Harcourt, etc.). Our event focused on 'Culture Change' and Jason was the perfect Guest Speaker for this 3-day event! Attendees gained so much knowledge from Jason's talk and loved playing the Cards Against Mundanity game. Thanks again, Jason!" 
Kameron Hobbs, Sr. Director Meeting Planner and Global Marketing & Operations at AA-ISP
"Jason's presentation was really resourceful and opened up managers at our organization to have conversations on best practices to lead their teams. His workshop and game helped to build cohesion between managers from different departments. Jason has a very interactive approach to his coaching that provided managers to have some practical lessons at the end of the session. We are very fortunate to have him present to our managers, he is an inspiring leadership coach that provided management lessons through his past experiences. I highly recommend Jason's training sessions and presentations to spark innovation, motivate employees, and improve leadership skills within your organization."
Patrick Mandapaka, Assistant Transportation Director, Houston-Galveston Area Council
"Jason's presentation helped HR professionals across the OKC metro tackle employee engagement by doing deep dives into who the team members and why they do what they do. He provided a great card game, Cards Against Mundanity, to help get to know one another in a quick and meaningful way which could easily be brought back to the workplace and used to. Our members gave great reviews and we hope to have him back soon." 
Greg King, Head of Programming at Oklahoma City Human Resources Society
"Our clinic was struggling to maintain a positive morale. After attending Jason's workshop, I was able to take what he said and put it into action. After our first team building session, I noticed a difference in how the group was communicating. The transformation has been steady and continues to grow. Word quickly spread within my company on how successful this experience was so there's plans to use Cards Against Mundanity in other clinics across the nation." 
Angie Higgs, Director of Clinical Services at CareHere (Provides employer-sponsored work-site healthcare access in 200+ centers over 26 states and has served more than one million patients last year.)
"I was impressed after I heard Jason speak at a PRSA Dallas Luncheon. When our company was planning activities for an upcoming meeting, I immediately thought of Jason's team building cards (Cards Against Mundanity). Jason not only provided all the materials we needed, and he was kind enough to walk us through the game, answer our questions, and provide insight from the survey results. The team enjoyed the activity and we received feedback that members felt more engaged after participating. I would highly recommend him as a facilitator for any team meetings."
Pamela Thompson, Senior Consultant, Blue Cross Blue Shield
I got a tremendous amount from your keynote address and highly recommend every organization plays your employee engagement and team performance game – it's amazing and there is nothing out there like it. I summed up the key points in a blog post I wrote. Employees in my company are already using the information and getting fantastic results
I am planning to use Cards Against Mundanity game (and workshop) with both my executive team when they come down to Florida in March and with my EO Group (Entrepreneurs' Organization). "

David Kreiger, President of SalesRoads
"Thank you for speaking at our SHRM seminar in Texarkana on Tuesday. You presented such valuable information that will be useful in my position at work as well as my dealings with people in other areas of my life.
I thought you might like a little feedback about how we are already using the information you presented. Our management team (about 12 key leaders) meets every Friday morning. We plan to pass around one question each week to help us get to know each other on a deeper level and connect personally rather than just professionally. It went great this morning! We found out some things about each other we never would have known otherwise and the team seemed relaxed with great interaction as we continued our meeting. I am looking forward to continuing this each week and see our good team become an excellent team."
Melinda Womack, Head of Finance/HR at Hospice of Texarkana
"Jason's session was life-changing…both professionally and personally. When we began, I sat amongst a group of strangers. But 45 minutes later I felt I was among a group of friends.  The questions were powerful and thought-provoking.  We shared some laughs and shed some tears. I left the session feeling inspired to use the lessons learned at my organization."
PRSA Houston President 2017-2018
Director, The Ralph Douglas West Ministries
"Jason's presentation was really resourceful and opened up managers at our organization to have conversations on best practices to lead their teams. His workshop and game helped to build cohesion between managers from different departments. Jason has a very interactive approach to his coaching that provided managers to have some practical lessons at the end of the session. We are very fortunate to have him present to our managers, he is an inspiring leadership coach that provided management lessons through his past experiences. I highly recommend Jason's training sessions and presentations to spark innovation, motivate employees, and improve leadership skills within your organization."
Patrick Mandapaka, PhD, AICP
Assistant Director, Transportation Department
Houston-Galveston Area Council
"Jason had a tremendous impact on our User Summit. His presentation set the tone for tone open, thoughtful and productive conversation throughout the week. Attendees told me they will be taking these principles and practices back with them to their companies along with playing his game, Cards Against Mundanity. They are very excited to put them into practice. I'd highly recommend Jason at your next event."
Chris Lee, Chief Commerical Officer, Logistical Labs
"Our team members are still singing your praise. Your knowledge, enthusiasm and the wisdom you have shared have had an impact on our organization and the bonds we create as we work together."
Lonnada Green, Ernst & Young
"I really enjoyed your presentation on maximizing team performance. I am very excited to use your tools within our team, including playing Cards Against Mundanity."
Ashley Ellison, Director, Capacity Optimization, U.S. Xpress, Inc
"Thank you, Jason. Our group really enjoyed your talk — I heard very positive verbal feedback immediately after!"
Head of Programming for PRSA Dallas, Jennifer Little
"Cards Against Mundanity was transformative for my business. I encourage you to play in your organization and you'll see an immediate impact."
Jessica Rhodes, the owner of Interview Connections (#1 podcast booking agency)
"Do you want to get to the next level? This will help you open doors in your business, that you never knew they were there!"
Sandra Garcia, Fort Worth Hispanic Chamber of Commerce
"Thank you for taking time out of your day to come and speak with us. Our group of ambassadors enjoyed the presentation and excited to try the game with their team/organization."
Jazmin Gutierrez, Fort Worth Hispanic Chamber of Commerce
WHAT IS CARDS AGAINST MUNDANITY?
It's a small group question-and-answer game that increases trust, team closeness, and engagement by more than 20%+ in 45 minutes or less. That corresponds to double-digit increases in performance and key metrics. 
There are two types of questions:
Conversation starters, "What was your favorite summer job and why?"

Connection questions (which are more revealing), "If you could pick one year of your life to do over, which would it be and why?"
The game is simple … question and answer. Take the top card, read it, answer it, and the next person goes. Each person answers at least three questions. At the end, each person has one minute to share one thing they learned about three different people.
Download the game, including all the instructions, and get additional suggestions on how to continue building a high performing culture like Google and many other companies in the Forbes Best Places to Work list.
I debuted the game in my TEDxWilmington talk, "How to Get CoWorkers to Like Each Other." I shared research, data and suggestions on how to maximize employee engagement to increase performance, productivity and long-term organizational success. In the video, you'll learn why teams thrive and falter, and how you can quickly implement strategies that will make an immediate positive impact on your team.
Here are research data points on why playing this game will be transformative for you:
70% of people said the #1 factor for a happy work environment is working with people they like and having friends.
Employees with a close work friend are 7x more productive and more loyal.
42% of people have no friends at work.
LONELINESS is as dangerous as smoking 15 cigarettes a day.
70-80% of workers globally are not actively engaged in the workplace, and it costs US businesses $550 billion dollars annually in lost productivity.
Organizations with engaged employees experienced a 19 percent increase in operating income over a 12-month period, compared to a 33 percent decrease in companies with disengaged employees.That's a 51 percent difference in profitability between companies with engaged staff compared to those with disengaged staff.
Highly engaged employees are 87 percent less likely to leave your company than disengaged employees. Replacing employees can cost your company anywhere from 16 percent up to 213 percent of salary depending upon the role.

WANT ME TO CONDUCT THIS AS A WORKSHOP FOR YOUR TEAM?
Check out various options you can do the workshop for your team, organization, off-site, meeting, customer events, and much more. Click here. 

FREQUENTLY ASKED QUESTIONS
(Instructions are included in the game as well. This will answer other frequently asked questions.)
Who is this for?
Any organization no matter what their size (Fortune 10 company down to a company of two people, schools, sports teams, etc.)

Any individual, team or working group

Individuals that want to build great relationships with external audiences in areas such as sales, business development, client retention, raising money, or any key stakeholders
What benefits will you get by implementing these materials?
Increase sales, revenue, and profit

Increase employee retention and satisfaction

Increase performance, problem-solving, collaboration, communication, conflict resolution, innovation/creativity, accountability, "owner" and "can do" mentality, "truth-telling" and teamwork

Create best-in-class leaders and managers who get the most out of their teams

Increase client retention and closing prospects
What if I manage a team, but my organization isn't on board yet and/or doesn't buy into this way of thinking?
It will work. It doesn't matter if others buy into it or not. The ONLY thing you will have to do is reinforce the concepts here on a more regular basis than an organizational-wide implementation. I'd recommend doing things every 60 days or less. They can be exercises that are 10-15 minutes in duration.
What if I'm an individual contributor?
It will help you. You can pitch to your manager to use. You can use it 1:1 with colleagues, your manager, any external parties you interact with, etc.
How would I use this with external partners/audiences?
I'll use a sales example. For a prospect, you'd play a couple questions at the end. You could say something like, "I really get to know the people I work with. I have a fun game that's similar to Cards Against Humanity, but for the workplace. Want to try a few questions?" You can do the same thing with current clients, either in a group or 1:1. You'll see results after only 5-10 minutes. And they typically don't want to stop playing either.
What if people don't want to share and open up?
I put in questions called "Conversation Starters." They are fun, light and easy questions. People rarely use them. As long as the leader (or first person playing) picks the "Connection Question" everyone continues to play with them.
How long before I see results?
You'll start to see results immediately. I'd give it 90-120 days to start seeing the full effects. It's also dependent on "you" the manager/leader to create the conditions for people to thrive, and incorporate the values I share in the video/PPT.
In today's litigious environment, do you see problems or push back with individuals when they play Cards Against Mundanity? Do you see people using the information people share against each other?
I'm not a lawyer, and I'm not offering any legal advice. Please seek out in-house counsel and/or attorney for legal advice or any questions you may have. In my experiences, I've never had anyone push back or use the information against someone else. 
How can I bring up playing this game to someone I work with?
"I want to build a better working relationship with you. It will help both us. The only way we can do that is to get to know each other better. I came across this question-and-answer game that would be fun to play. You up for it?"

They will say yes. Everyone likes to play games. Plus, you also have research and ROI data you can share.
As the team leader, how can I roll this out to my group?
I think sharing why you believe this important is a critical step. They will be able to use the information strategically in their interactions. I think a five minute explanation is plenty.
How do we play? How should I divide up my team/organization?
There are instructions in the game.

You can pay in groups of 4-12 (12 is THE largest and I would only advise that if you have a group of 12 people. I would divide it up that way if there were 24.)

Optimally, it is 6-8 per group.

For example, if I had 24 people, I'd divide the groups up in 6s. If it were 8 total, I'd do one group.

You'll have one person keep track of the time.

Each person gets a maximum of two minutes to answer a question.

You play a minimum of three rounds (five is optimal).

The most senior person goes first and starts with a connection question. You can make a group announcement stating this during the activity or tell people ahead of time.

At the end, each person has one minute to share three things they learned during the game.

I'd recommend bringing people back together and asking them to share what they learned. For example, "Who is willing to share their experiences playing the game today?" "What did you take away from playing the game?" "How can you use this in your job?" etc.

You also can do an activity afterward such as brainstorming, working on a difficult challenge, getting feedback, etc. People are in a peak state of engagement, creativity and problem-solving. They will be willing to share more than they normally do.

Another best practice is if it's a company-wide rollout, I'd have the management team play first so they can experience it and answer any questions people may have.
What if my team and/organization is very large 50-1000s?
The results accrue across the entire group playing. They don't have to be in the same team. I've done it with 500 people and worked the same as if there were six people.
Can I use this for a team-offsite, company meeting, conference, ice-breaker, etc.?
Yes! You don't need to give people information on the game. You can just play it. The results will be fantastic.
How do I follow this up?
Here are

other activities

you can do over the next 12-15 months. I'd recommend doing something every three months. It can be an activity that takes 5-10 minutes. You must prioritize and institutionalize the core principles I share in your team and/or organization.

If you are an individual contributor, you can come up with ways to get people to share. You'll be able to customize the information here to do that.