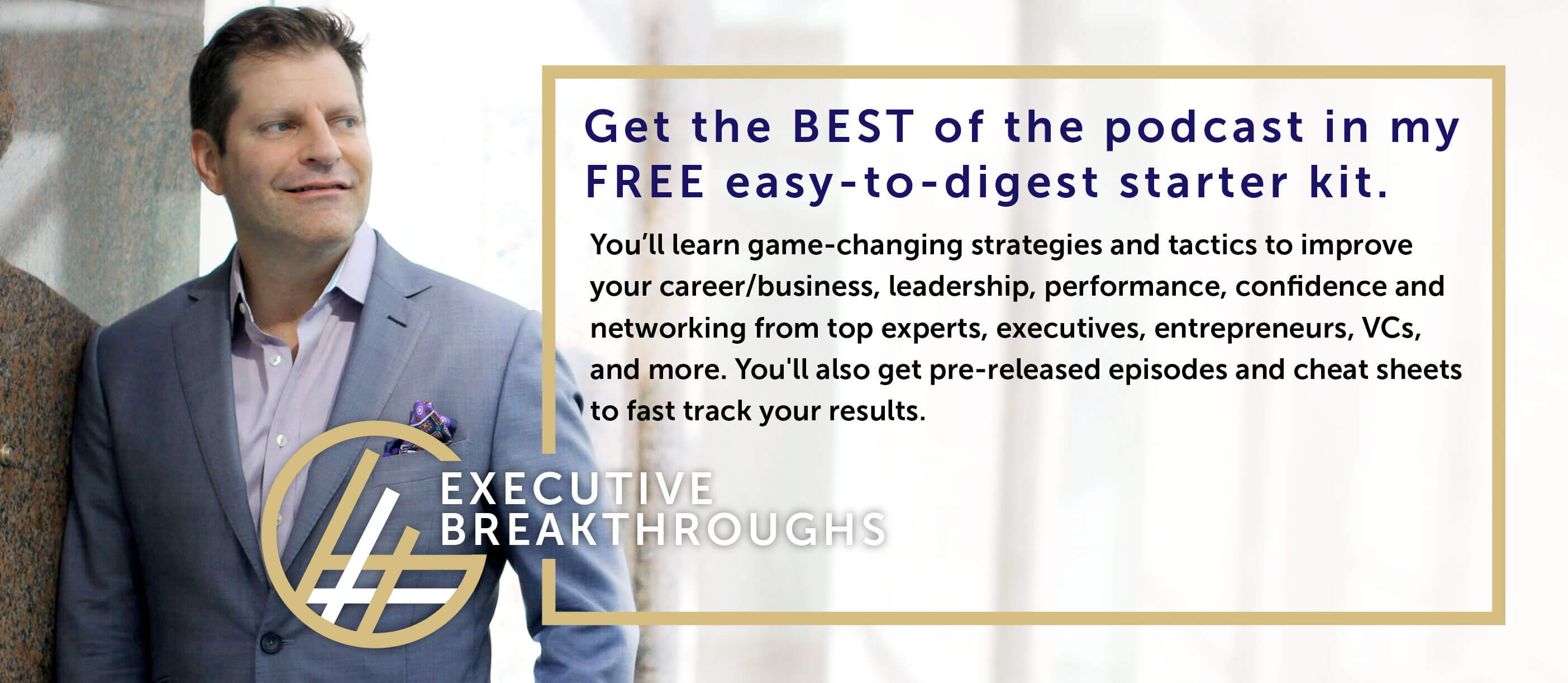 Get the Podcast Starter Kit, updated with the latest episodes and much more!
Executive Breakthroughs Podcast will teach you to:
Build the highest performing & most engaged teams to significantly increase your bottom line (i.e. you'll become a team building expert!)
Identify & dissolve your hidden (& unconscious) patterns that are sabotaging your success (i.e. blindspots), and replace them with a new game-changing mindset and self-awareness
Maximize your leadership potential & performance, & find your unique superpowers to become the best version of yourself
New managers will learn strategies, best practices & tools to increase their effectiveness
Human resources professionals will learn cutting-edge best practices on maximizing employee engagement & experience, resolving & mediating conflicts with ease, creating a "world class" employee onboarding & hiring process, more effectively dealing with difficult employees, & much more.
Sales leaders will learn how to build the highest performing sales teams, skyrocket trust and rapport with customers & podcasts, more successfully manage others, work across the organization with other groups much better, & much more.
Master relationship building (and business networking) with reborn confidence, authenticity & charisma to create valuable social capital
What's this Podcast All About?:
Executive Breakthroughs Podcast is where high-performing executives, entrepreneurs, and rising stars, just like you, come to learn from their business heroes on how to make your unique mark on the world, maximize leadership and performance, create a culture of rockstar talent (i.e. be an expert team builder), become a great manager, and more. HINT: It takes more than bean bag chairs, a waffle bar, and all those perks on "Silicon Valley."
We'll talk visionary leadership, bold entrepreneurship, building epic teams and winning management styles. Wild creativity paired with disciplined productivity and great teamwork. Embracing fear, and stamping out impostor syndrome and limiting beliefs. Tiny missteps, and epic misfires. Mistakes you can skip, and strategies you can steal. (Because stealing pens and Post-it notes is for amateurs.)
This show will make you a better leader, manager, team builder, investor and — most important — a better thinker and problem-solver.
Recent Podcast and My Guest Appearances on Other Podcast Shows
https://youtu.be/9R4hfkoC3OM Are you a sales leader or manager that wants to build an incredible inside sales culture that maximizes salespeople's performance, engagement, retention, and motivation? Then check out our podcast episode below to learn how to better...