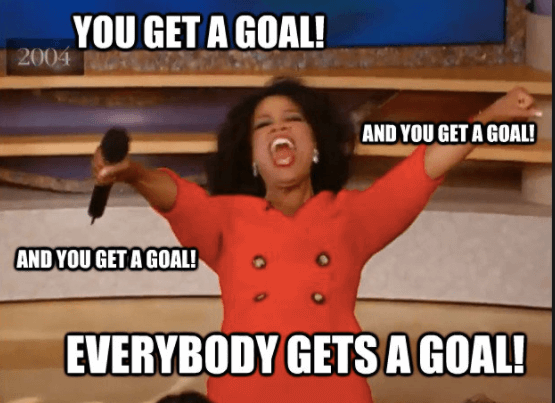 The goal-setting process to me is very frustrating, time-consuming and very few people follow through with them. Goals can be very powerful, but the process has to be simplified and minimize resistance to following through.
I've created this rapid goal-setting document to get you commit to the goals you want, understand your "why" and provide you with the "drive" to achieve/surpass your goals.
This whole goal setting process should take you 15 minutes or less. Set a timer. Force yourself to answer the questions in the allotted time. Don't worry if you don't get it all right. You can always go back later and add/delete/change.
Also, I've added a couple resources at the end that will be helpful.
Now, go crush 2018!!!
And…take out a piece of paper, open google docs or your favorite writing tool/app.
Step 1: Set Your Goals for 2018 (5-7 mins)
The point of goals is to help you realize a "better version of you." It's not about comparison, perfectionism or about what anyone else is doing. That's a trap that will hold you back and kill your drive.
Pick three professional and/or personal goals. If you pick any more than three, you will have a hard time focusing, prioritizing and achieving them.
You can pick quantifiable or qualitative goals. Don't get bogged down in metrics and or need for specificity because sometimes there isn't. Don't worry about the perfect goal sentence, just put something down.
Quantitative examples:
"I want to qualify for the Boston Marathon during the Chicago Marathon in October."
Qualitative example:
"I want to create deeper relationships with my friends and family."
Goal #1

Goal #2

Goal #3
Step 2: Why (2 mins)
People get way to caught up in the HOW versus the WHY. Once you pick the goal, you will figure it out.
There is plenty of knowledge, coaching and support out there. You just have to start and figure it out along the way. Start taking imperfect action without everything figured out. Stop waiting around for when you are ready or evidence or when you "feel" like it.
When would NOW be a good time to start?
Ask yourself:
Why did you pick these goals? Why are they so important to you? (Answer in 2-3 sentences maximum)
Step 3: Look in Your "Accountability Mirror." (3 mins)
What are you really lacking in your life? Where are you not measuring up to where you want to be? Be 110% real and honest. When you can write it down and say it, you are 75% on the way to moving past it.
Step 4: Motivation is BS (3 mins)
Motivation only lasts for a moment and it won't stick with you. It's fleeting. You've watched a movie, read a book or gone to an event, and said to yourself you were to change something. And then…nothing happened. That's motivation.
Drive will get you out of bed and it will have you doing things no matter how you feel. Drive is about your WHY. Driven people always find a way.
What's your drive here? What's going to get you out of bed at 5am to run in the cold? What self-talk do you need to have to keep going no matter what?
DONE!
Start taking action today. You'll look back and be amazed how far you have come on December 31st!
Support and Additional Materials:
Tip #1: Use your calendar to write down what actions you are going to take. It is the easiest and quickest way to make yourself accountable. Treat like a meeting you have to go to.
For example, I write out my running schedule (with the help of my coach) on a monthly basis and put it my calendar. That way I know what I need to need to do.
You can also write on a weekly, bi-weekly, or monthly check-in on your calendar. You can write something simple like, "What have I done to move my three goals forward this month?" "What new actions do I need to take?"
Tip #2: There is a simple "three pillar" equation to achieve mastery at anything.
Knowledge/systems/best practices + Mentoring/coaching + Support
For each of your goals, apply the three pillars.
Here is an example and blueprint you can leverage:
I decided to run a half marathon in four weeks, and I've never run more than four miles ever. I did some simple things. First, I signed up and paid to run in the Dallas Half Marathon. Then, I texted 20 of my friends telling them I was going to run. So now, I had to do it and find a way. Second, I found an amazing running coach, and it was very inexpensive. Third, I asked twenty people what the best running group was in Dallas and joined them. I run with the running group every Wednesday night and Saturday morning. And my running group is completely free. Fourth, I emailed 20 expert runners I knew and asked them five questions about how to master running, prevent injuries, etc.
I applied all that information and ran for only 16 days outside. I finished the Dallas Half Marathon in one hour and 52 minutes (that is an 8:32 pace). That's pretty good for a first-time runner. And I'm not fast, gifted or some natural athlete.
Next, I signed up for three more races, and applied and got into the Chicago Marathon in October. My goal for the Chicago Marathon is to qualify for the Boston Marathon.
I've got a complete accountability system in place to help and support me.
Plus, you may just need to google the information you need and join a group or find a partner. Regardless, don't waste time. Do it!
Tip #3: I don't believe in top 10 lists because people get overwhelmed and don't get to any of them. So I am only going to give you two.
This is the best podcast I've listened to in 2017

. It is with David Goggins who is a Navy Seal, Army Special Forces, and Air Force Tactical Air Controller Training. He has done the 10 hardest adventures races in the world. You'll learn a lot from this. PLEASE NOTE: He swears quite a bit so if that is an issue, then please be advised.

Two versions:

Best book in 2017 (hands down)

: Brene Brown,

Braving the Wilderness

. Fantastic book on courage, leadership, business, creating community and overcoming obstacles in your life.
PS: You can download directly my TEDx team building game I created, Cards Against Mundanity. You can play it in groups of 4-12 at work or with your friends. The results are incredible. In 45 minutes, you'll see results. One company and several groups increased revenue/production by more than 25% in a year due to it. It's based on research on the #1 factor for high performing teams at Google. And also a research study where people built the closest relationship in their life in 45 minutes.