Here is my presentation at the PRSA Dallas May Event,  "The Secret to Strong Teamwork and Collaboration that Leads to Innovation, Engagement, and Happiness." We also played my game, Cards Against Mundanity.
Feedback from the head of programming, Jennifer Little, for Dallas PRSA:

Overview of My Speaking Engagement at PRSA Dallas: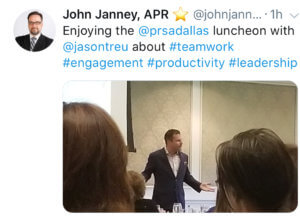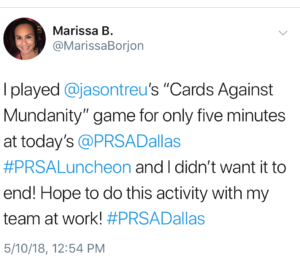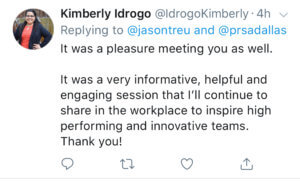 Collaboration is taking over the workplace. With employees spending more than half their time working together, teamwork is critical to organizational success and market leadership. However, according to Gallup, almost 70% of employees are disengaged and it's costing U.S. businesses $550 billion every year.
After spending three years interviewing more than a thousand individuals, including leaders and teams in Fortune and Forbes Top 10 Workplaces, Jason Treu has discovered specific strategies and activities any organization can do to quickly increase engagement and performance as well as work better with internal and external teams.
Join us for the PRSA Dallas May luncheon to hear how teambuilding and strong group connections can lead to productivity, exciting innovation and job happiness. This session will help change and improve the way you work with any team and is ideal for any communication setting including agency, corporate, nonprofit, government and consultants.
We'll cover together:
Why disengagement and lack of trust is killing team success
The "secret" strategies for building high performing and innovative teams
The simplest way to inspire others and work well in group settings
Specific activities you can do quickly make working in teams a positive experience
Tips for managers that need help engaging one team member or many
Play Cards Against Mundanity my team building game that deep relationships in minutes