‪Excited to be selected as a speaker for the Twin Cities SHRM (Society For Human Resources Management) Spring Conference in May. One of the largest Human Resources Management chapters w/ 1000+ members.
I'll be speaking on employee engagement & building the highest performing teams.
We'll be playing my game, CardsAgainst Mundanity.com, in the session that 10,000+ people are using to maximize their performance. Companies such as Amazon, Google, Southwest Airlines, Blue Cross Blue Shield, E&Y, CareHere, PRSA, Microsoft, Oracle, Worldwide Express and many others are using it to maximize employee and team performance and create the highest performing organizational culture.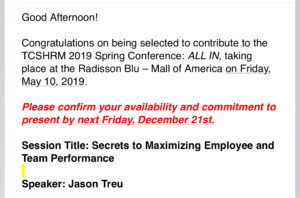 Details are here and more will be announced shortly. https://www.tcshrm.org/m/event_details.asp?id=1154104