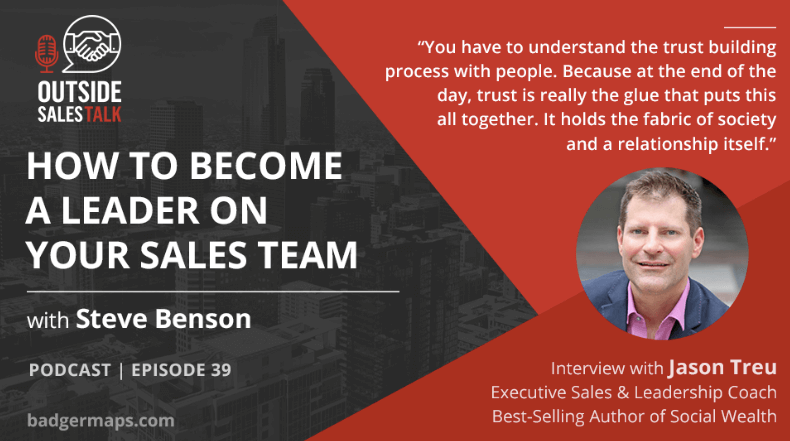 How to Become a Leader on your Sales Team – Outside Sales Talk with Jason Treu
Jason Treu coaches executives, managers and their teams to maximize their leadership potential and operate at peak performance. He's the best-selling author of Social Wealth, a how-to-guide on, building extraordinary business relationships, which has sold more than 45,000 copies. In this episode, Jason reveals his tips on how to become an extraordinary leader.
Here are some of the topics covered in this episode:
What is self-awareness and how it affects leadership
How to build trust and create psychological safety
How to build trust and create psychological safety
Getting the most of your relationships through feedback
How to improve team performance and employee engagement
You can listen to this episode on iTunes, Stitcher, Spotify, Google Play or wherever you get your favorite podcast!
About the Guest: Jason Treu is a leadership, culture change, employee engagement, team building, and motivational keynote speaker. He provides coaching, speaking & workshops to develop great leaders and maximize employee engagement.
He had helped thousands of people achieving their most ambitious goals by becoming more self-aware, resilient, creative and confident. He advised leading organizations such as Google, Amazon, Southwest Airlines, Microsoft, Blue Cross Blue Shield, CareHere, E&Y, Worldwide Express, Gillette, Oracle & SMBs on how to improve leadership.
He was a featured speaker at TEDxWilmington 2017, where he debuted his breakthrough team building game "Cards Against Mundanity"
Get 'Cards against Mundanity' free game to build trust and team engagement: http://www.cardsagainstmundanity.com/
Website:Jasontreu.com